Environment
Reduce our impact on the environment through innovation, new technologies, and behavioural change.
The terminal's commitment towards environment and energy saving has been remarkable and is being through its adoption of a 3 pronged environmental strategies namely "Encourage adoption of "Environmental Technologies", "Environment' to become a mandatory part of the process of acquisitions and Greenfield designs" and "Encourage and promote eye-catching environmental ideas". Over the years DP World Nhava Sheva has delivered a number of environmental protection and energy conserving ideas.
Some of these initiatives include care for the environment & active involvement in its protection. We do have a sewage treatment plant, hazardous bund for storing leaking containers, authorized vendors for waste disposals, oil & water separators, best housekeeping practices, fuel saving initiatives, technical changes for energy saving, monitoring energy consumption, ongoing awareness programs.
Latest Community Activities at Nhava Sheva International Container Terminal
Environment activities around the Region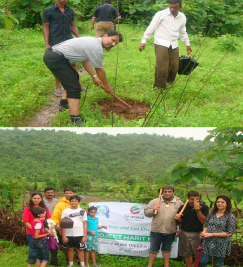 Planting trees
As a part of the ongoing environment protection as one of the global objective of the company, DP World Nhava Sheva recently joined the hands with the Rotary Club, Powai, and the Forest Department, Uran to plant 20,000 trees, at Ransai Village, Chirner Taluka, Panvel on July 9th 2011. Mr. Vivek Kale, President Rotary Club Powai approached DP World Nhava Sheva to join hands with us to launch a project called "Harit Kranti" DP World Nhava Sheva co-ordinated with the forest department and the rotary club to visit the site for the tree plantation. To exhibit the commitments of the senior management to this great cause all the HOD's and other staffs participated in this function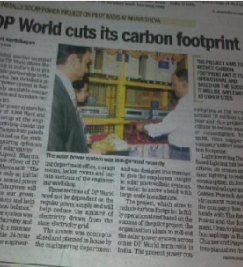 Solar power project for the building lightings.
As part of its continued commitment towards environment and energy conservation, DP World Nhava Sheva has installed an solar pilot plant that will allow the terminal to harness solar energy for its energy requirements. Conceptualized with a vision to reduce green house gas emissions including carbon dioxide, this project will facilitate the terminal to reduce its annual power consumption by 14,000 kWh (units). This will contribute towards a more sustainable energy portfolio and reduce the site's carbon footprint.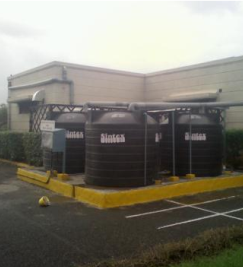 Rain water harvesting system
NSICT augmented it's rain water harvesting system in 2011 and collected and consumed over a million litres of water during the monsoon.
The total capacity has been doubled compared to the last year and we have collected 1,000,000 liters of water and used.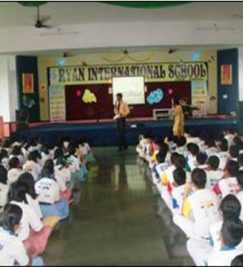 Environmental awareness in schools
we have visited Ryan international School Panvel for having a environmental awareness program where we conducted plays, qui z programs and distributed prizes to the younger generations.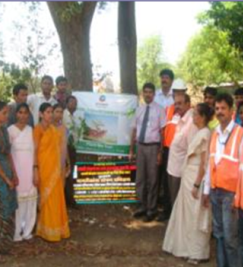 Tree Plantation in civil defense area
We organized a function of tree plantation at a civil defense area, Uran, a Nearby village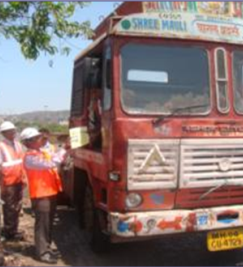 PUC checking awareness campaign
To ensure the external trailers visiting the terminal premises are in maintained conditions and the emissions are not beyond the prescribed norms of the Central Motor Vehicle Rules 1989(should not exceed 65 Hart ridge Smoke Units for diesel vehicles), PUC (Pollution under Control) checks were undertaken for the vehicles with PUC expired certificates free of cost by the terminal. All the vehicles checked were found below the prescribed emission limit (32 to 54 Hartridge Smoke Units).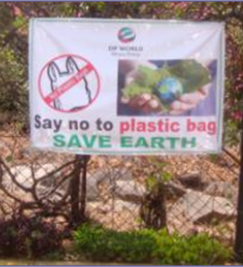 Environmental awareness campaign
Environmental awareness campaign was arranged outside the terminal at truck parking plaza, Information regarding fuel consumption and tips to save the fuel were discussed with them. They were also briefed about the importance of forests and the need to increase tree plantations in the vicinity. Harmful effects of plastic were explained to them with request to ban plastic bags. Pamphlets regarding environment protection and tips for fuel conservation were distributed.
.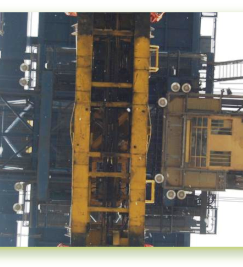 Power saving lights
DP world Nhava Sheva, as a part of the commitment to the protection of environment, converted the HPSV lamps in the Cranes ,high Masts and cranes into the energy saving LED lamps.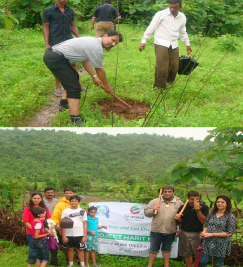 Planting trees
As a part of the ongoing environment protection as one of the global objective of the company, DP World Nhava Sheva recently joined the hands with the Rotary Club, Powai, and the Forest Department, Uran to plant 20,000 trees, at Ransai Village, Chirner Taluka, Panvel on July 9th 2011. Mr. Vivek Kale, President Rotary Club Powai approached DP World Nhava Sheva to join hands with us to launch a project called "Harit Kranti" DP World Nhava Sheva co-ordinated with the forest department and the rotary club to visit the site for the tree plantation. To exhibit the commitments of the senior management to this great cause all the HOD's and other staffs participated in this function